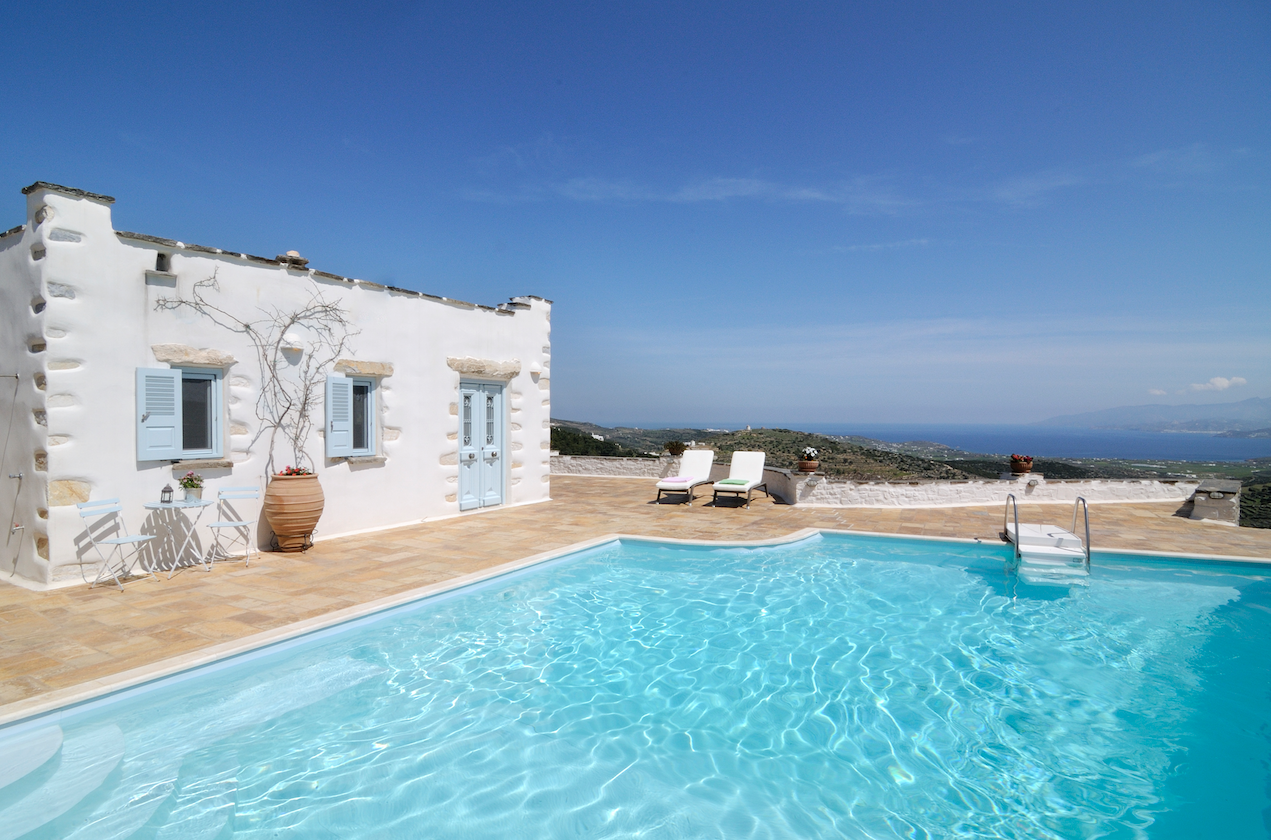 Project Description
Villa Malena, built-in 2008, is situated above Lefkes, the most picturesque village on the island of Paros, one of the prettiest of the Cyclades Islands.
The villa has a fantastic panoramic view over the village and the sea strait between Paros and Naxos.
The place is designed thus, to achieve quietness, relaxation, privacy, and enjoyment of all possible comforts for both summer and winter seasons.
The whole villa is stone-built. The inside floors are made of the famous Epidavros and Parian marbles, while the outside upstairs flooring is covered with rare brownish color Karystos stone compiled in Byzantine style. Downstairs the floor is structured freely.
All inside and outside doors and windows are made of specially dyed wood with all-weather treatment, double-glazed glass, and stainless steel mechanisms for maximum isolation and tranquility. The kitchen is fully equipped with up-to-date top standard facilities and can easily cater to more than 8/10 persons. A highlight of the outside upstairs terrace and the pergola is the old monastery table that can easily seat 10. The downstairs small and the upstairs large pergolas are both open to the unlimited view over the Aegean. During a clear day and a light mistral wind, one can enjoy the view of Mykonos, Naxos, and, even, Ikaria.
There are four (4) double bedrooms. All of the same standards. They all contain built-in double beds (1.80m x 2.0m) and fully equipped en-suite closet and bathroom facilities. At the upstairs level, there is a Master Bedroom with a balcony door to the front terrace and a full view of the Aegean. The other three bedrooms are located on the first level downstairs with windows and a view of the garden and the Aegean.
The villa is very well electronically and electrically equipped. As mentioned before, the first level has a 37" TV, DVD, high-speed internet (wireless and cable), fridge, and coffeemaker. On the upper level, in the living room, there is a 37" TV, Satellite tv facilities, Stereo, DVD, HDD Video, I-phone docking, CD player, high speed (24 Mbps) internet (wireless and cable),
Cordless phone, fax, hp P1005 laser printer. All bedrooms have a hairdryer and are fully air-conditioned. The Master Bedroom has, also, an air fan. The kitchen has top-rated German technology TEKA equipment: Oven, Microwave, Cookers, Fridge, Deep Freezer, and Dish Washer. Nespresso machine and Filter Coffee-maker machine. It is fully equipped to serve more than 10 persons. There is also a washing and ironing machine in the service court.
Finally, kindly note that for our Guests' best comfort the villa has a service maid living at the service court. Her duties are to provide everyday cleaning, making up of the beds and bathrooms, change bed sheets and towels frequently and make breakfast at our Guests' desire and expense.  The pool is well taken care of by our pool technician every second day.
The villa is situated in the most beautiful spot on the island. Lefkes village is only a 3-minute downhill walk. One may easily walk uphill back home for a really healthy and relaxing exercise. For fans of long walks, the place is considered a "walkers' paradise" with miles of walking possibilities in the green and quiet paths of the countryside around the villa through the old mills and monasteries.
Accommodates up to 8 persons, 230 sq.m, 2 independent levels plus terraces and gardens, swimming pool (: 5,6m x 10m ), fantastic view, parking spaces ( 2 ).
2 Separate Living areas: One upstairs and one downstairs.
Downstairs: First level above the garage of two parking spots. Outside: One sitting area under a bamboo pergola with a fer-forge table and chairs and a very beautiful view and surrounding garden of Aegean aromatic botany plants and roses. In-house: a living area with a 37" TV, built sofas, table, and chairs, DVD, wireless phone, internet access (wireless and cable ). Small fridge and coffee-maker. Three double bedrooms with fully equipped en-suite closet and bathroom facilities (air-conditioned).
Upstairs: Second level above the garage level. Outside Terraces: Front Terrace: with a fantastic view over the Aegean and the Village of Lefkes. Side Terrace: with the swimming pool surrounded by hibiscus plants and pots with the famous Aegean boucambilias. Sunbeds and chaise-longues to enjoy the sun and the view. Pergola Terrace: of 60sq.m with a built sitting area for 6/8 persons and an old monastery table that accommodates easily 10. Adjoining there is a large charcoal pit/bar-b-que and, also, a built oven. At the back of the upper level, there are the service court and a small warehouse together with a small fruit tree garden. In House: There is a comfortable living room for 8 persons with big balcony doors to the front terrace, a fireplace, a dining area for 8, and a fully equipped kitchen. There is, also, a guest WC/Bathroom and the Master Bedroom with its en-suite closet and bathroom facilities. The Master Bedroom is slightly elevated, so that, when in bed you may dream your day over the View of the Aegean through the front terrace.
Seasides:
The villa is only 6 to 20 minutes by car away from all of the island's famous beaches. Santa Maria: 12 mins, Molos: 6 mins, Golden Beach: 8 mins, Farangas: 20 mins, Crios: 20 mins, etc).
Mountain Bike: A paradise for mountain bikers, as we are on the island's most beautiful heights.
At  a glance:
Exclusive, detached, and prime location, indoor secured garage for two cars,  four double air-conditioned bedrooms with en-suite closet and bathroom facilities, two living rooms (one per level), one with a fireplace, one inside dining and one outside, a fully equipped kitchen, private swimming pool, unlimited view, large pergola for outside sitting, large bar-b-que, the villa is electronically and electrically fully equipped, 3-ple energy boiler, mosquito nets on all outside windows and doors, Sat. TV, air fan, laundry/iron, baby cot available upon request, in-house service, cooking. Pets: allowed but definitely need monitoring and caretaking. Must be walked outside the villa and sanitation rules must be attended.
Activities:
Boat/yacht chartering, open sea sailing, windsurfing/ski kite, mountain biking, riding, walking/trekking, tennis, soccer, etc., may be organized.
Distances:
To: Parikia ( main town and port of the island ):   10km ( 10 min ).
Naoussa: 11km ( 12 min ).
Santa Maria Beach: 12km ( 14 min ).
Molos beach: 5km ( 5 min ).
Pounta ( port to Antiparos ) : 15km ( 20 min ).
Airport: 15km ( 20 min ).